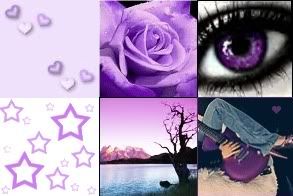 ....Bertemu kembali dalam rancangan impian eja...untuk slot kali ini eja akan menceritakan tentang kenapa eja perlu berdiam diri(diam ker??)....Berdasarkan pengalaman eja menjalani liku-liku hidup minggu ini...eja rasa amat bermakna dan berharga walaupon boys in purple shirt xbagi harapan ....he just my inspiration...so whatever he do..i dont care..cuma yang eja tawu eja suka die..thats all...kawan-kawan eja yang dikasihi sekalian,,..Thanks to you all vote eja for vice president untuk english society club..but actually eja not excellent in english...kalu nak rojak-rojak tambah kuah tu maybe bolehlah...apa-apa pown u'll dah vote eja..so u all must support me to improve my english language ok....
This week i dunno why i'm so moody...mudah sencitive...maybe red flag semakin hampir...tapi eja belum settle juzuk yang umi suruh eja baca sebab nanti raya umi nak buat qatam al-quran beramai-ramai....hopefully bukan masa terdekatlah eja datang penyakit wanita ini...
My head still spinning..sekarang makin menjadi-jadi..kadang kala eja nangis tahan sakit but bila dah selalu sangat even sakit, eja masih try senyum untuk kawan-kawan eja yang dicintai....i tak sakit itulah ungkapan untuk eja setiap hari...
Semalam sebelum balik tetiba keluar ilham dalam minda nieyh..
Bacalah....buat dia yang berbaju purple...
Semalam...kabus tebal...
Aku tak tawu dimana diriku,...
Saat membilang dan membakulsampahkan kertas kerja...
Aku terpandang gambar dia...
Di sudut tepi almari bajuku....
Aku terpandang wajahnya...
Yang begitu menarik perhatianku....
Bukan untuk bersama denganya...
Bukan untuk menjadi miliknya....
Aku sedar siapa diriku di matanya..
Cuma gadis biasa yang ...
menyemakkan mindanya....